Shanghai Disneyland Opens: Everything You Need to Know
The long-awaited Shanghai Disney Resort opened its gates to the public on June 16.
Adventure Isle
Camp Discovery
Traverse challenging rope courses, hike scenic trails and dig for ancient relics as you explore Adventure Isle.
Height: Any Height
Outdoor
Shanghai Disneyland, Adventure Isle.    
Open
11:30 AM to 10:00 PM
Roaring Rapids
Plunge through dark chasms, outrace a ferocious beast and churn through raging, roiling currents on a thrilling raft adventure!
Height: 107 cm or Taller Thrill Rides, Water Rides, Big Drops, Dark, Loud, Scary, Outdoor, Rider Switch.       Open: 11:30 AM to 10:00 PM
Soaring Over the Horizon
Take off aboard an exhilarating flight where you can witness the wonders of the world as never before!
Height: 102 cm or Taller Indoor, Rider Switch, Disney              Open: 11:30 AM to 10:00 PM
Fantasyland
Alice in Wonderland Maze
Wind your way through the maze of Alice's Wonderland world to attend this delightfully mad tea party.
Height: Any Height,
Outdoor
100,000 workers estimated to have worked on the park's construction, with thousands more working on the accompanying resort infrastructure.
11,000: Workers on site during the peak building period
5: Years between breaking ground and the park's June 16 opening to the public
5.5: Billions of dollars it cost to build the park
10,000: Employees working on opening day
2.4: Millions of shrubs and plants needed to create the garden features, along with 12,000 trees
72,000: Metric tonnes of structural steel needed to make the park
160: Kilometers of piping used to construct the major water, fire, electrical and other utility systems, equivalent to 100 miles of piping
100: Species of shrubs used to construct the Gardens of Imagination, plus more than 60 species of trees
Photo Source: nytimes.com
8: Main towers on top of the Echanted Storybook Castle, which is the tallest, biggest and most complex castle Disney has ever built
150: Performers and technicians needed to create the Mickey's Storybook Express parade feature, which runs along the longest parade route of any Disney park
3.6: Millions of liters of water needed to fill Treasure Cove.
16,340: Square meters of space taken up by the Pirates of the Caribbean: Battle for the Sunken Treasure attraction, which is one of the most complex ever built by Disney
24,000: Square meters of rock work that was hand-sculpted to make Adventure Isle
966: Meters' length of the track for the Tron Lightcycle Power Run roller-coaster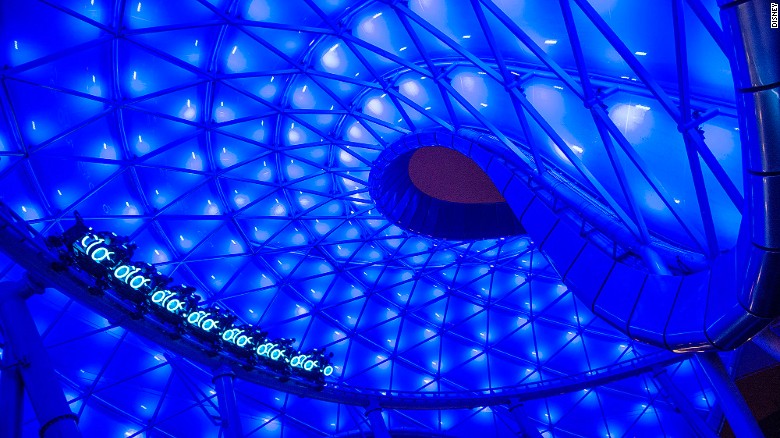 Photo Source: cnn.com
4.8: Minutes it takes for an Olympic swimming pool-sized amount of water to flow through the Roaring Rapids flume
16: Millions of meals Disney expects to sell each year.
150: Dishes on offer in the theme park, representing the eight major cuisines of China
700: Kilograms of rice Disney expects to serve each day
6,000: Burgers expected to be sold each day
600,000: Giant turkey legs visitors are expected to consume in a year
12: Million heads of bok choy that workers are expected to trim in a year